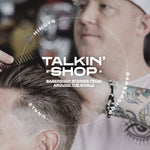 Talkin' Shop w/ Unkle Hingys Barbershop
G'day Mr Hing! Let's jump right in, why did you open Unkle Hingys?
After working in the industry for seven years alongside some true masters of their craft, I felt ready to step out on my own and captain my own shop. Unkle Hingy has been a nickname of mine since high school. It just felt right to name the shop after it!

In a very traditional space (Barbers & Surf), what's your vision?
I try to educate people that Unkle Hingys Barbershop is about respect no matter where you're from or what job you have; whether you're a banker or a bricklayer, both are equal through my doors. Same as any one, whatever they identify as is so important to me that everyone feels comfortable and respected. It's a rad place to come and vibe out, look at surfboards, sink tins of sin and most importantly have a good yarn and get laced up.

Epic. Whats the vibe in Caloundra these days?
Caloundra is getting some culture these past few years. Rad dive bars, hidden art galleries, tattoo shops. It's starting to attract a bit of a vibe. I like it because it's kind of dodgy and run down but that's the charm.
When someone walks through the doors, who do they meet?
At the moment I'm a one man band. I've grown up surfing and skating, it's still a big part of my day to day life. I'm now also a landcruiser guy so the whole camping scene is starting to appeal to me more and more! Sinking tins up the beach around the fire with homies is all time..

What do you love about the shop? What is your favourite part?
I like the calm before the storm. Getting in early and cleaning, blasting music when it's just me there. I get a big sense of pride from my
corner of doom.

Barbershops have always been more than a fortnightly haircut, what role do you think they play in a community?
I think, like any service industry, it's got to be about leaving people better than you found them! Not only with style but also mentally. Seeing crew leave with a smile or a laugh is always rad.

Awesome. Where can we send everyone to find UHB?
Beat Beat Surf Shop in Caloundra, 119 Bulcock St, Caloundra QLD 4551

Thanks, Hingy. We'll be flying north for a brew in the sun soon!