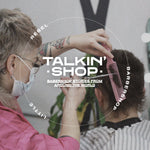 Talkin' Shop w/ Little Rebel Barbershop
Hey Rhia! Let's jump right in, why did you open Little Rebel?
I opened a barbershop to make a change in the industry/world and for a place where myself and others similar that do not necessarily fit into mainstream fashion/workplaces can come, feel comfortable and grow.


In a predominantly traditional industry, we love the fresh air you breath into the space. What is your vision for Little Rebel?
Little Rebel Barbershop is a space for everyone. A hub that welcomes self-expression and creativity. We provide a variety of services using both hairdressing and barbering techniques, breaking the rules, and pushing boundaries in the hair and beauty industry. Inspired by artistic and musical subcultures and driven by equality.
The Little Rebel team is a creative friendly bunch. We are dedicated to our trade and customer service.


There's an indescribable energy inside LR... Who walks in the door?
Little Rebels clientele is a real mix-bag of folk and that's how we like it! A lot of creative types, "misfits" and people that are comfortable being themselves, being different and pushing past the norms of gender or mainstream fashion.
Tell us about your staff, what makes them unique?
The Rebel barbers at current are all Artists whether it be photographers, musicians, writers/poets, or painters. We are an extremely creative team that enjoy pushing boundaries creatively and this shows through in our work as hairdressers/barbers.


What do you love about the shop? What is your favourite part?
Good vibes all round, enthusiastic team and open-minded clientele. There's not one favourite part, I'd be bored if there was lol.


Barbershops have always been more than a fortnightly haircut; what role do you think they play in a community?
We help transform people into the person they most feel comfortable
to be. We are privileged to join them on their journey and thankful for their trust in us.


Awesome. Where can we send everyone to find LR?
We recently opened our Preston South store and are excited about being in the new space and reconnecting with other local small businesses after Melbourne lockdown 6.0


Thanks, Rhia. Wish you all the best with the new store and look forward to stopping by for a beer soon. Keep being awesome!