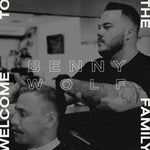 "Barbering took me from homeless to homeowner!"
Meet our ambassador Benny Wolf.
Hey Benny! Welcome as an MP Ambassador. Straight up, why did you start barbering?
I wanted a career where I could constantly challenge myself and be creative. I always felt my best after a good cut, I wanted to do that for others. I get to help people be the best version of themselves with a good cut and a good chat.

Who is your biggest industry influence?
There's so many… Top 3?
Schorem Barbier: Rob "The Bloody Butcher" made me fall in love with classic styles
Fraser Forsey: Barber Educator & Mentor
Kyle Chilman: British Master Barber & Mentor.

Fraser is a lord. What are your strengths in barbering?
Listening to what my clients wants, using a combination of classic and modern techniques to achieve the style. I specialise in Classic styles such as Pompadours in the Scumbag style, but also love doing a super blurry fade into a textured crop. I believe in being well rounded and being able to accommodate anyone that walks through the door. I also have a reputation for taming big ass beards!
Worst hair cut trend?
Im not here to judge….but, Undercut Curtain Bangs!

Any tips for the aspiring youngster or barbers coming through?
Ask as many questions as you can. Learn from every experience and use it to strengthen yourself. You WILL make mistakes, they'll make you stronger. You get out what you put in. Barbering took me from homeless to homeowner. Put in the work and enjoy it!.

Awesome. Where can we send everyone to find you?
HMB Barbers Burdell & HMB Barbers Idalia

Thanks, Benny. Follow his skills here @bennywolfbarber