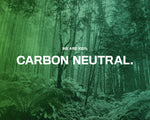 We are 100% Carbon Neutral!
In February 2020 Modern Pirate took its first step towards reducing its carbon footprint and offsetting its emissions to become a 100% carbon neutral brand/business. 
This has been achieved by purchasing carbon credit investments in renewable energy projects in developing countries and by partnered with Greening Australia's reforestation program planting native carbon-sequestering trees across Southern Australia's biodiversity belt to create Australia's biggest carbon sink and establish one million hectares of habitat across southern Australia.
We will be constantly accessing and refining all aspects of the business to minimalize our carbon footprint.
See more about the Greening Australia project here.
Let us know what you think in the comments below, or get in touch to know more.